Domenic Troiano - His Life and Music (Hard Cover)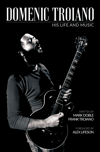 For orders outside of North America, please go onto the Friesen Press website and they can fulfill your orders, both hard cover and soft cover: https://books.friesenpress.com/store/title/119734000185054289
For local pick-up in Richmond Hill or Lindsay, please click Contact in the header above to connect with an associate to arrange an order.
Pick-up orders do not incur any delivery or shipping fees.
Shipping charges to a single address in North America are $15 for the initial book, and an additional $5 per book thereafter.